May 7th, 2010 by Marv
Alien Arena 2010 has been released today! The latest edition of this open sourced, freeware FPS has been updated with new levels, several new weapon models, and a host of bugfixes, gameplay tweaks, and client improvements. Some of the new features include:
Five new levels
Improvements to shadow rendering
New disruptor and beamgun models
Security and memory leak fixes
Improved weapon balance and other gameplay tweaks
Kickban added to callvote
Lightgrouping for faster real time processing
Revamped menu font system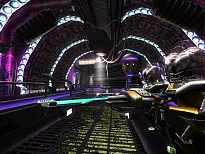 For a complete changelog, click here
Download: [ This entry was posted on Friday, May 7th, 2010 at 10:33 pm and is filed under News. You can follow any responses to this entry through the RSS 2.0 feed. You can skip to the end and leave a response. Pinging is currently not allowed.